A 15 bedded medical hospital in heart of Borivali. Hospital operational for more than 38 years. Well-equipped hospital providing comprehensive medical services. One of the few prestigious hospital certified with ISO 9001:2015. Managed by highly qualified doctor with internationally acclaimed degrees and with decades of experience. On Panel of many reputed organizations. Mediclaim cashless hospitalization for a large number of TPAs including GIPSA. In house Pathology test lab. Pre Insurance Health Checkup for many Insurance companies at affordable and reasonable charges.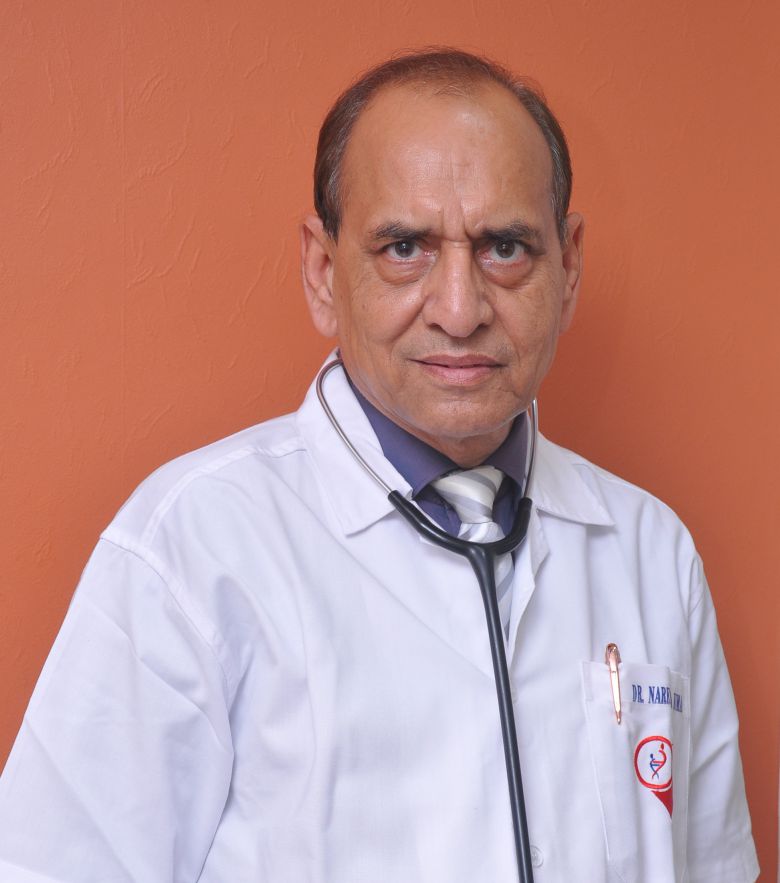 Dr. Narendra Kumar
M.B.B.S., M.D., F.I.C.A. (U.S.A.), F.A.B.A., F.I.C.M.U., F.C.C.P., F.E.S.I.
Successfully completed postgraduate training course in Diabetes organized by All India Institute of Diabetes, Bombay in october, 1980 and 46th annual advanced course on diabetese at Orlando USA.
Published and presented many papers in National and International journals and conference, independently as well as with late Dr. K.K. Datey and Late Dr. B.K. Goyal [Renowned International Cardiologists].
Ex-special Invitee, National Board, Ministry of Micro, Small and Medium Enterprises, Govt. of India 2013-15.
Ex-Executive Committee Member
Borivali Medical Brotherhood since 1988, Vice President, 1995-2015.
Asthma and Bronchitis Association of India, 1990-91.
All India Nursing Homes Association President, 1991-92, 92-93.
Elect member in committee for the extension of Bhagwati Municipal Hospital, Borivali.
Indian Federation of Ultrasound in Medicine and Biology, 1990-94.
Dahisar Medical Association 1990-91.
Association of Medical Consultants, Mumbai 1989-90.
Indian Medial Association 1992-93, 1993-94, 1997-98, 1999-2010.
Membership committee chairman of BWSB-I .M. A. 2000-2001.
Public Health committee of BWSB-I M A member 1993-94.
National Society for Prevention of Heart Disease and Rehabilitation - Vice President 1991-92, 1992-93 &1993-94, Secretary 1999-01.
Indian Society for Study of Pain- Maharashtra branch 1993-94.
Appointed as District Chairman to various committee of Lions Clubs International such as medical, cardiac care, family planning, blood donation and blood bank, A I D S, ETC.
Lions Club of Borivali West 1982 To 1997.
Secretary for Heart Mela held at Cross Maidan on 30th Dec., 1999 to 2 ND Jan, 2000.
Nomitated as : Member - Special Invitee, National Board, Ministry of Micro, Small and Medium Enterprises, Govt. of India 2013-15.
Shield of Merits for Medical Excellence by S E M Directory Committee 1991.
Many awards and certificate at club as well as district in Lions Club.
100% President Award from Lions Club International 1987-1988.
Appreciation award by Association of College of Chest Physicians.
Certificate of honor "Sarv-Shri" committee of hosts SEMDC 1992.
Order of merit - Indian Council of Management Executives.
Doctor of Millennium by Indian Council of Management Executives.
Borivali Ratna Award.
Honoured on World Heart Day in 2014 by Haji Ali branch of Indian Medical Association.
His Exceliency late Shri Gyani Jail Singh, Ex- President of India awarded Fellowship of Association of College of Chest physician.
Life time achievement award from Dahisar Medical Association 2015.
SEM and SEO for three terms with Govt. of Maharastra.
Just Make an Appointment to Get Help from Our Experts